If like us, you're getting hit with a big winter storm today (for like, the third time in the last couple of weeks), take heart in knowing that we've got a couple of treats to keep you warm! I'm talking about: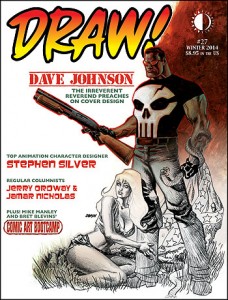 Draw #27 (shipping today from TwoMorrows), wherein top comics cover artist Dave Johnson demos his creative process, Stephen Silver shows how he designs characters for top animated series, plus new columnist Jerry Ordway presents "The Right Way, the Wrong Way, and the ORDWAY!", "Crusty Critic" Jamar Nicholas reviews art supplies, and you can even spend some time at "Comic Art Bootcamp" with Draw editor Mike Manley and Bret Blevins! Mature readers only, cause there's some naked people in it (for figure drawing demonstrations only, nothing lurid).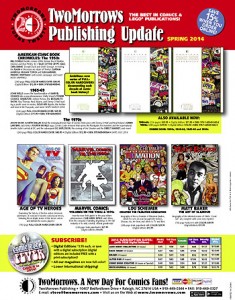 Our Spring 2014 Catalog Update, where you can see all the awesome releases we've got planned for you over the next few months.
So click on the links, cuddle up in front of the fireplace, and enjoy!