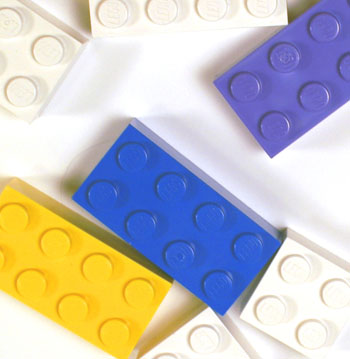 Over Labor Day weekend, I went to BrickFair in Vienna, Virginia (just outside Washington, DC). This was my first true LEGO convention, and was quite an eye-opener. While there was a very vital LEGO presence at Comic-Con this year, BrickFair was an entirely different animal. It was more intimate (there was an estimated 3500-4000 people who attended the "public" days on Saturday and Sunday), and the vibe was more indicative of the early comic conventions I attended back in the 1970s and '80s. Everyone seemed to know everyone else, and there was a sense of fun and comraderie that's missing at a lot of today's mega-conventions. (And no, that's not a specific slam on MegaCon in Orlando; just a turn of phrase.)
The first full day is for "attendees" only, who are the hearty souls who've paid a nominal registration fee, to have the privilege of displaying their "MOCs" (stands for "My Own Creation") out of LEGO bricks. They're not selling them, mind you (or selling anything else, generally); they're just there to show off what they can build. There's probably 50-100 of these attendees, and for their fee, they get a table slot (assigned by the convention organizers, based on how much space their MOCs need, not based on how much they paid, since everyone pays the same price to be an attendee). The result is a room full of spectacular LEGO constructions, all there for the general public to view and enjoy on the "public days".
The attendee-only day lets everyone get their MOCs set up, and allows a lot of good bonding time between old friends, and making of new ones. The result is a lot of people having a lot of fun, enjoying the hobby they love. No one's really buying or selling anything, just displaying.
For the public days, there were probably only 4-5 actual "vendors" there selling anything (one table had a few assorted bags of LEGO parts for sale, another had mini-figures and other accessories, and one guy was selling a few LEGO sets, and doing custom engraving on the sides of LEGO bricks), and they paid a reasonable fee for their tables. The convention had a table selling BrickFair hats and t-shirts (and, nicely, copies of our mag BrickJournal for us). But that was about it; thousands of people there, with not much to spend money on; a far cry from today's big comic-cons.
The crowd was really big (lined up all the way around the Sheraton hotel, with the parking lot overflowing into the adjoining streets). Admission was $10 per day, and was well worth it. Other than the main ballroom where all the MOCs were displayed, there was a "free play" room with tons of LEGO bricks dumped on the floor for anyone to play and build with, a silent auction room full of items donated by LEGO, and a room that housed the "Great Ball Contraption", which was an M.C. Escher-style construction that filled the room, and took balls on a whirlwind journey through LEGO mazes, trucks, and along tracks, right back to where it started to do it over and over again, all day long. There was also a film room, where fans aired their home-made LEGO movies, done with stop-animation and mini-figs. And comic-con style panels were offered (including a BrickJournal one moderated by editor Joe Meno, where I got an even greater sense of just how much LEGO fans want to see the magazine succeed).
Head personnel from the LEGO Group in Denmark were there, walking the floor, giving keynote addresses to the attendees, and talks to the public. They were there to meet and greet people who love LEGO, and to evangelize the company and its products. There was also a big Bionicle display, to draw in kids that are more geared toward that product line. However, LEGO didn't have any actual display; they just donated items for raffles and auctions, and sent personnel to interact with the fans (although the LEGO retail store at the nearby shopping mall was literally MOBBED with customers when I stopped by). In my dealings so far with the LEGO Group, I've got to say that comic book companies could learn a lot from following how they run their business, and deal with their fans.
The hotel was fabulous and affordable ($95 a night for a 4-star Sheraton), and the location was great, with plenty of great shopping and food nearby (but far enough from Washington DC that the traffic wasn't too bad). The main problem is, the ballroom was so crowded, I was afraid the fire marshall might shut it down, so a larger venue will probably be needed in the next year or two.
I've been to a few recent comic conventions that, despite their much larger size, just weren't that much fun. BrickFair, however, wasn't about size at all; it was ALL about fun. All the profits from the registration and admission fees go to charity, and putting on next year's convention. Everyone involved is there to make sure everyone else has a great time, and based on my experience as a NOOB (ie. newbie to the LEGO scene), they did a spectacular job! I hope some comic-cons can learn from their example.