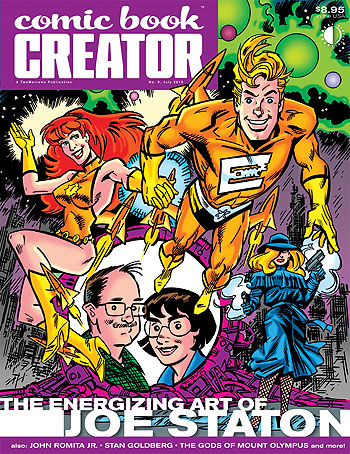 Between our kids volleyball and Irish Dance competitions, convention travel, and vacation, my family has logged a LOT of miles traveling this summer (Florida, Rhode Island, California, Costa Rica, and the beautiful North Carolina beaches), and it's been exhilarating, to say the least. But just because school is revving up and summer is winding down, that doesn't mean TwoMorrows has any fewer electrifying items to send your way.
Case in point: Comic Book Creator #9, which is shipping today from TwoMorrows, and should be in comics shops next week. The spotlight this time is on Joe Staton, a longtime favorite of mine for his JSA and Huntress work. After getting his start on E-Man at Charlton, he went to do work for all the majors, and is currently the artist on the Dick Tracy newspaper strip.
Also featured is part one of an in-depth interview with Marvel Comics legend Stan Goldberg, who colored most of the early pivotal Marvel issues (think FF #1, Hulk #1, etc.), did romance and Archie stories, and more.
Plus editor Jon B. Cooke offers up a fascinating slate of other features and columns. So check out the free preview and order HERE!