Back Issue #82 (84 full-color pages, $8.95) looks at pivotal Bronze Age Events! With extensive coverage of the Avengers/Defenders War, JLA/JSA crossovers, Secret Wars, Crisis' 30th anniversary, Legends, Millennium, Invasion, Infinity Gauntlet, and more! Featuring the work of SAL BUSCEMA, DICK DILLIN, TODD McFARLANE, GEORGE PÉREZ, JOE STATON, LEN WEIN, MARV WOLFMAN, MIKE ZECK, and more. Plus an Avengers vs. Defenders cover by JOHN BYRNE! Edited by MICHAEL EURY.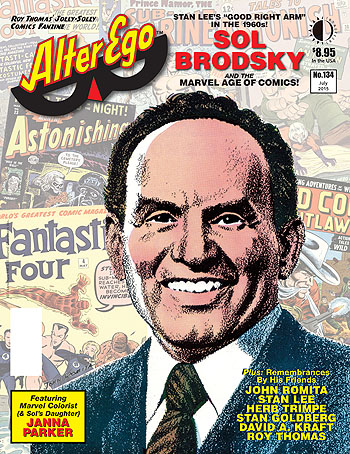 Alter Ego #134 (84 pages with FULL COLOR, $8.95) celebrates SOL BRODSKY—one of the most important and underrated artists in comics! He inked Fantastic Four #3-4 and designed its logo—became Marvel's production manager during crucial years—co-founded Skywald, then Marvel's British weeklies! Daughter JANNA PARKER talks about her father—and so do STAN LEE, HERB TRIMPE, STAN GOLDBERG, DAVID ANTHONY KRAFT, TONY ISABELLA, ROY THOMAS, and others! Learn about his work on Blue Beetle, Kid Colt Outlaw, Red Cross (his Holyoke creation!), Volton, and Cracked Mazagine! Plus FCA, MICHAEL T. GILBERT, BILL SCHELLY, and more! Cover portrait by JOHN ROMITA! Edited by ROY THOMAS.
Click the links above to see a free preview and order! Both will be in stores next Wednesday (July 29) and are now shipping directly form us.