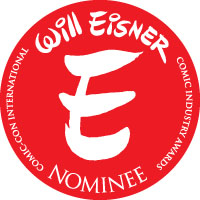 While TwoMorrows HQ will remain open so you can take advantage of our 40% off sale on Artists Biographies (and order our new Monster Mash and Herb Trimpe books), I'm leaving tomorrow (natch!) for sunny San Diego and our annual pilgrimage to Comic-Con International.
This year, we're nominated for not one, but TWO Eisner Awards (alas, both in the same category, so they'll likely split the vote). But hats off to Roy Thomas and ALTER EGO, and Jon B. Cooke and COMIC BOOK CREATOR for the nods for Best Comic-Related Publication (or website, or blog, or who knows what else our print pubs are getting lumped against these days).
At booth #1301 (our usual spot, next to the Golden & Silver Age Pavilion, just inside the main entrance to Hall B), we'll be offering 40% off nearly everything at our booth. So if you're there, elbow through the crowd and stop by to chat. We love, love, love talking to our readers each year. It personally energizes me to get to hear what we're doing right, wrong, and what you'd like to see us do that we're not already doing. See you there!