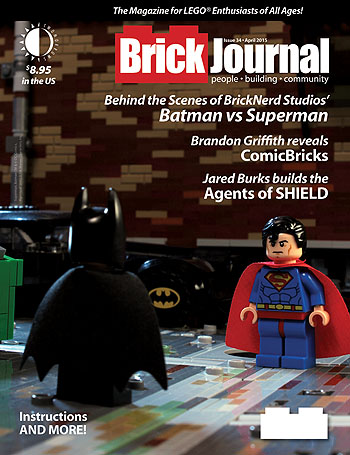 There's tons of reasons for comics fans to check out the new issue of BrickJournal (#34, now shipping).
Brandon Griffith's COMICBRICKS project is hightlighted, as LEGO builders recreate their favorite classic comic book covers out of LEGO bricks.
Jared K. Burks shows off his customized Agents of SHIELD minifigures.
We go behind the scenes for the making of Tommy Williamson's internet video Batman Vs. Superman (where a minifig of both heroes duke it out on the mean streets of Legopolis).
Plus a feature on DC Comics' recent LEGO covers, one fans attempts to modify the LEGO Friends line of girls' toys, into custom SUPER FRIENDS heroines, building Neil Gaiman's SANDMAN characters out of LEGO bricks, a custom set of Iron Man's Hulkbuster armor, and more.
See the preview and order a copy HERE!