It's happened again: Back Issue #89 is now sold out, just like #88 last month!
Due to recent changes with our distributors, TwoMorrows is experiencing unprecedented levels of reorder activity on our magazines. We expect similar sell-outs over the next few months, for Back Issue #90-93, as well as recent issues of Alter Ego (#140-143), Jack Kirby Collector (#67-69), Draw (#31-32), and Comic Book Creator (#11-13), once Diamond's reorders come in.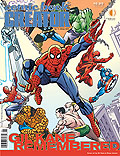 Comic Book Creator #11 is probably the next to go. With its amazing feature on Gil Kane, it's already in low supply, so if you missed it, consider going to this link to order:
http://twomorrows.com/index.php?main_page=product_info&cPath=133&products_id=1216
And if you've been delaying getting other recent issues, don't wait much longer. While we plan to increase our print runs to compensate for demand on future issues, it's too late for any that are already printed.
Bottom Line: We can no longer guarantee copies will be available for long after initial release! To ensure you don't miss an issue:
• Pre-order through our website (www.twomorrows.com) at 15% off
• Subscribe online at: bit.ly/twomorrowssubscribe
• Order through Diamond's PREVIEWS catalog as soon as you see each new issue listed
Don't wait for a relisting, convention, or sale. Many recent issues are close to selling out, so order now!