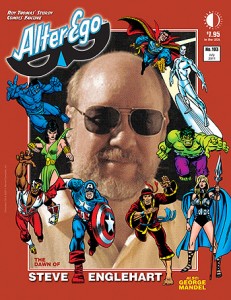 As part of a crossover with Back Issue #51, ALTER EGO #103 (just nominated for "Best Comics-Related Journalism" in the 2011 Eisner Awards) takes an in-depth look at the career of STEVE ENGLEHART. The issue ships in late July, and debuts at Comic-Con International: San Diego at the TwoMorrows Publishing booth #1301, where editor and former Marvel Comics editor-in-chief and writer ROY THOMAS will be on hand to meet fans and sign copies each day.
ENGLEHART is widely acclaimed for his scripting work at Marvel, DC, Warren, and other companies, and this issue (the first part of a two-part interview, continuing in Back Issue #51 in August) covers it all: The Defenders—Captain America—Master of Kung Fu—The Beast—Mantis—with rare art and artifacts by SAL BUSCEMA, JIM STARLIN, TOM SUTTON, DON HECK, BOB BROWN, and others. Plus, we present JIM AMASH's interview with early artist GEORGE MANDEL (Captain Midnight, The Woman in Red, Blue Bolt, Black Marvel, etc.)—FCA (Fawcett Collectors of America) with MARC SWAYZE and C.C. BECK—and MICHAEL T. GILBERT uncovering the secret of Will Eisner's letterer in Mr. Monster's Comic Crypt.
You can download a FREE PDF preview of the issue at this link.