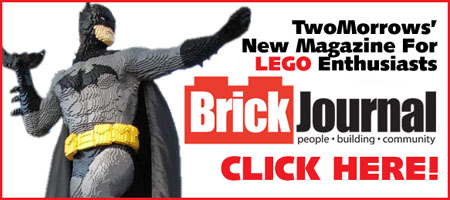 What have we been doing at TwoMorrows HQ these last few weeks, while this blog has remained largely silent? One of the things going on has been gearing up for the launch of our new magazine, BrickJournal! It's the ultimate resource for Lego enthusiasts of all ages, and is produced with assistance from the corporate LEGO Group headquarters in Denmark. If you're not familiar with it, it's edited by my old pal Joe Meno, and spotlights all aspects of the LEGO Community, much the way our currrent mags cover the art and history behind comic books.
Joe's been producing BJ for several years, but only in digital form (much like the new PDF versions of our other mags). The first eight issues have averaged over 100,000 downloads each, so there's a really strong, vital Lego community that's embraced the mag already. Now we'll be branching it out into a print edition as well, starting with a new issue #1 (Volume 2) shipping in February 2008. In the meantime, the new issue (#9) is available as a FREE digital edition by clicking the link above, or here. So click away, and if you like what you see, consider subscribing, and getting the first 8 digital editions!
So, why would TwoMorrows opt for a magazine about LEGO, when our core audience is interested in comics? Well, anyone who's been to Comicon International: San Diego in recent years undoubtedly saw the LEGO Group's massive booth and display (with the life-size Batman statue shown above). As in the past, this year's con saw large crowds engulfing that booth, proving there's a fair amount of crossover between Lego and comics fans. I see the two audiences as very compatible, if not joined at the hip. LEGO enthusiasts are just as rabid about their hobby as comics fans are about theirs, and if each audience exposes the other to their interests, it's bound to impact both in a positive way.
Besides, LEGO is something I grew up with (and my two daughters are currently as well), just like comics. You had LEGO bricks at your house, and you know you loved them. Just like with comics, I suspect our readers will be amazed when they see what adults are doing with them.
You can find out more about the past, present, and future of BrickJournal and the Lego community at www.brickjournal.com