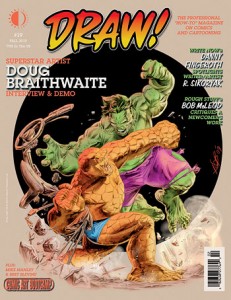 DRAW #19 is FINALLY at the printer, and sports a new cover color scheme for its final incarnation. Also new to DRAW is the triumphant return of DANNY FINGEROTH and BOB McLEOD (former editors of our dear, departed magazines WRITE NOW and ROUGH STUFF). Danny's helming a new regular feature spotlighting the top Writer/Artists in comics, while Bob is continuing his extremely popular "Rough Critique" of newcomers' work that he began in Rough Stuff. Editor Mike Manley is of course on hand as usual, this time with a feature-length article and demo by Doug Braithwaite.
In anticipation of the issue's release, we're letting readers download a FREE 5mb PDF preview of the issue at this link:
http://twomorrows.com/media/Draw19Preview.pdf
This preview features several pages of Mike Manley's feature on Doug Braithwaite, a section of Danny Fingeroth's interview with writer/artist R. Sikoryak, and the complete "Rough Critique" by Bob McLeod.
The full issue is available for pre-ordering directly from TwoMorrows at this link (print customers will receive a free link to the digital edition):
http://twomorrows.com/index.php?main_page=product_info&products_id=845
DRAW #19 will be on sale in comic book stores on Wednesday, September 29.