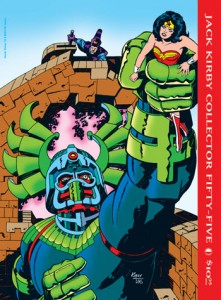 I'm tired, but it's a "good tired," now that Kirby Collector #55 is finally done! It's chock full of fun stuff on Kirby's connections to Hollywood, including lots of great art, a look at how George Lucas' SECOND Star Wars trilogy compares to Kirby's Fourth World epic, and more.
You can click the link below for a free Preview of the issue:
http://twomorrows.com/media/TJKC55Preview.pdf
This preview features a good sampling of the various interviews, articles, and art galleries from the issue.
The full issue is available for pre-ordering directly from TwoMorrows at this link (print customers will receive a free link to the digital edition):
http://twomorrows.com/index.php?main_page=product_info&products_id=886
JACK KIRBY COLLECTOR #55 will be on sale in comic book stores on Wednesday, October 27.