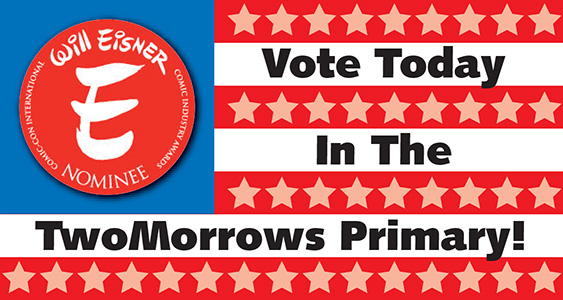 TwoMorrows Publishing is facing a Contested Convention at Comic-Con International this summer, with THREE Eisner Award candidates in the same category!
Our super-delegate staff of authors and editors is uncommitted, so help them decide in the first-ever TwoMorrows Primary election, now through THIS FRIDAY, April 22 at 8am!
There's only one question on the ballot:
Which of TwoMorrows' three Eisner nominees should win for "Best Comics-Related Periodical/Journalism"?
ALTER EGO
BACK ISSUE
JACK KIRBY COLLECTOR
Anyone can vote at this link:
http://bit.do/TwoMorrowsEisners
It's anonymous (you don't have to enter any personal information) and you'll find a Coupon Code good for $3.95 off your next order of $10 or more at www.twomorrows.com (enough for a free digital edition of our mags).
Then on April 22 at 9am, we'll put all in-stock issues of the winning magazine ON SALE at 50% OFF through the end of April!
Will one magazine trump the others, and cruise to an easy victory? Do your comic duty and find out—and encourage others to as well!
(I'm TwoMorrows publisher John Morrow, and I approved this message.)