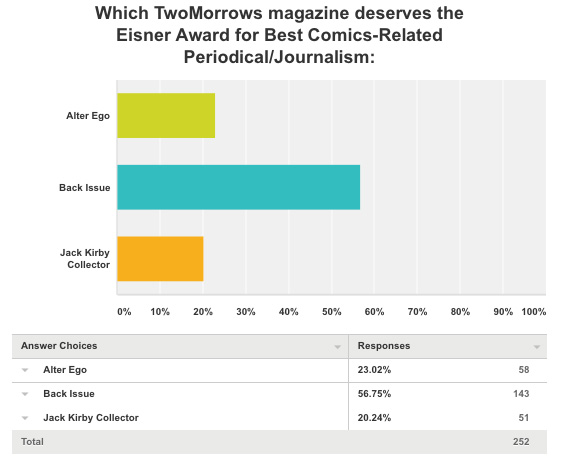 Congratulations to editor Michael Eury and BACK ISSUE magazine, for winning the TwoMorrows Primary Election! This year we garnered THREE Eisner Award nominations in the same category, so we held our own informal poll to see which one fans felt deserved the honor, and BI came out on top with 57% of the vote. So we're putting all in-stock issues of BACK ISSUE on sale at 50% OFF through May 1.
To celebrate our nominations, anyone can use the Redemption Code "EISNERS" during checkout, and get $3.95 off their next order of $10 or more at www.twomorrows.com. (The code expires May 1.)
Now it's time to vote for the real thing! All professionals in the comic book industry are eligible to vote in the Eisner Awards, and the deadline is June 17. Winners will be announced on Friday, July 22 at Comic-Con International. If you qualify, go here to vote:
The nominees in the category of Best Comics-Related Periodical/Journalism are:
Alter Ego, edited by Roy Thomas (TwoMorrows)
Back Issue, edited by Michael Eury (TwoMorrows)
Comic Riffs blog by Michael Cavna, washingtonpost.com/news/comic-riffs/
Hogan's Alley, edited by Tom Heintjes (Hogan's Alley)
Jack Kirby Collector, edited by John Morrow (TwoMorrows)
Congrats to all the nominees, and may the best candidate win!