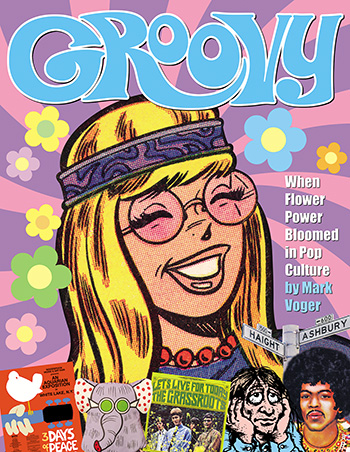 Mark Voger's follow-up to Monster Mash is now shipping, and it's GROOVY, baby!
Subtitled "When Flower Power Bloomed in Pop Culture," GROOVY looks at comics, music, TV shows, and more areas that were influenced by the hippie movement of the 1960s, and features interviews with (and amazing photography of) icons of grooviness such as Peter Max, Brian Wilson, Peter Fonda, Melanie, David Cassidy, members of the Jefferson Airplane, Cream, the Doors, the Cowsills and Vanilla Fudge; and cast members of groovy TV shows like "The Monkees," "Laugh-In" and "The Brady Bunch." GROOVY revisits the era's rock festivals, movies, art—even comics and cartoons, from the 1968 'mod' Wonder Woman to R. Crumb.
This book is a fun departure from our comics-centric output, and just like Monster Mash, Mark's hit this one out of the park. GROOVY is available to preview, and purchase in both print and digital editions now at THIS LINK!