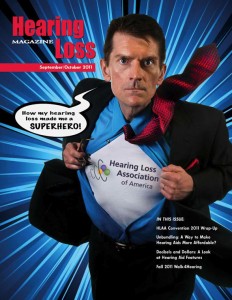 (Our pal, and BACK ISSUE editor, Michael Eury, was just featured on the cover of Hearing Loss magazine! The official PR is below. Gotta love that cover; great work, ME!)
CONCORD RESIDENT COVER-FEATURED ON NATIONAL MAGAZINE
Concord native Michael Eury, executive director of Historic Cabarrus Association and author of the recent book Images of America: Concord, is cover-featured in the Sept.–Oct. 2011 issue of Hearing Loss Magazine. The bimonthly publication is produced for members of the Hearing Loss Association of America, the nation's foremost membership and advocacy organization for people with hearing loss.
Featured in the issue is an article written by Eury, "How My Hearing Loss Made Me a Superhero." A former editor and writer for DC Comics and Dark Horse Comics, Eury describes how his adult-onset progressive hearing loss contributed to his loss of his self-confidence and career and led him into depression. After being inspired by movie Superman Christopher Reeve, who became paralyzed after a horseback-riding accident, Eury eventually took ownership of his disability and became an advocate and spokesperson for people with hearing loss and later, a community servant—a "superhero."
"Sharing my failures and weaknesses in print was the most difficult thing I've ever written," Eury said. "I hope that others are motivated by my story."
People with hearing loss often face numerous challenges with personal and professional relationships. Eury's message to them is to never give up, no matter how insurmountable the odds, and to seek guidance and resources to help them communicate and participate in life.
His article can be read online on Hearing Loss Magazine designer Cindy Dyer's blog, at http://cindydyer.wordpress.com/2011/09/06/michael-eury-superhero/.
An estimated 36 million (17 percent of) Americans suffer from hearing loss. To learn more about the condition and how to deal with it, visit the Hearing Loss Association of America's website at www.hearingloss.org.