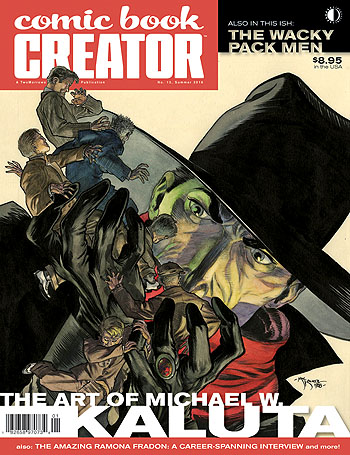 Comic Book Creator #13 ships today, spotlighting Shadow artist supreme Michael W. Kaluta, and the amazing Ramona Fradon, artist on Aquaman, Metamorpho, Super-Friends, or Spongebob Squarepants! And, as if those features aren't enough, Jay Lynch reveals the Wacky Pack Men, the Topps team who created the MAD-inspired (and subversive) trading cards that influenced an entire generation!
Who knows what amazing talents lurk in the comics biz? CBC knows, as does editor Jon B. Cooke. You can view a free preview and order the Print Edition (at 15% off with a free digital edition) or Digital Edition only (just $3.95) HERE.
You can subscribe HERE!
Or order the Print Edition at your local comic book shop using Diamond Comic Distributors Order Code: APR162001
This issue will be in stores on Wednesday, November 23, and ships TODAY directly from TwoMorrows Publishing.