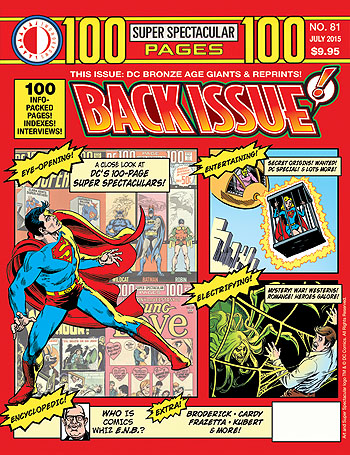 I love, love, LOVE those great DC Comics giants and reprints of the 1970s, especially the 100-Page Super Spectaculars. And the new issue of Back Issue (#81, shipping today from us and in stores next week) spotlights those big beauties. Editor Michael Eury and his band of faithful contributors have created my new favorite issue of BI (previously it was #61, our tabloid-size issue on DC and Marvel tabloids and treasury editions—and that one quickly sold out, so I wouldn't wait to pick up #81 if I were you!). This expanded 100-pager (natch!) has a one-time price increase to $9.95, but it's worth every penny.
Of course, nothing in this world is perfect, as you'll see when you get the print issue in your hot little hands. It was originally planned to cover both DC and Marvel giants, but Michael soon realized that, even with its 100-page expanded size, he needed much more space to do them both justice. So he opted to give Marvel giants their own issue, #86, shipping in January.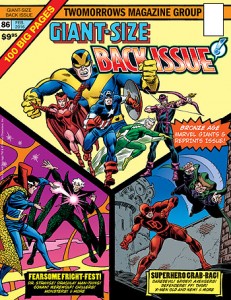 But in the frenzy to get this oversize issue to press, I accidentally used the original version of the cover that mentioned Marvel giants, instead of Michael's revised cover that was all-DC. So please ignore the Marvel blurb on the printed copies, and look for the all-Marvel giants issue early next year!