It's a big day today at TwoMorrows, with these three new issues NOW SHIPPING!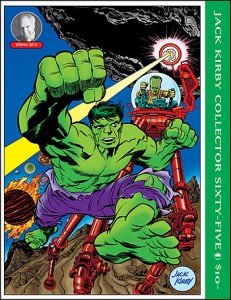 JACK KIRBY COLLECTOR #65 goes all-out and all-in with our Anything Goes (Again) issue! This new potpourri issue covers anything and everything from Jack's 50-year career, including a head-to-head comparison of the creative genius of Kirby, against the design expertise and ALEX TOTH! Who will come out on top? Plus a lengthy Kirby interview, a look at Kirby's work with WALLY WOOD, MARK EVANIER and our other regular columnists, unseen and unused Kirby art from JIMMY OLSEN, KAMANDI, MARVELMANIA, Jack's COMIC?STRIP & ANIMATION WORK, and more, all behind a classic 1960s cover inked by KIRBY?himself, complete with our gorgeous new color printing. Edited by John Morrow.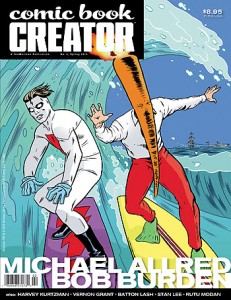 Comic Book Creator #8 is double the fun with two main features—MICHAEL (iZombie) ALLRED and BOB (Mystery Men) BURDEN—who share a surf-crazy jam cover featuring their respective creations, Madman and Flaming Carrot hanging ten! Comprehensive interviews and art galore await as we respectively visit these two innovative and individualistic creators. Plus BILL SCHELLY is interviewed about his new Harvey Kurtzman biography, and we present the conclusion of BATTON LASH's career-spanning interview which discusses his Supernatural Law series. We also join STAN LEE on The Man's last European comic convention tour… and HEMBECK! Edited by JON B. COOKE.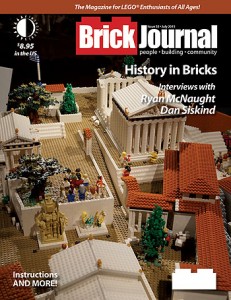 BrickJournal #35 (84 full-color pages, $8.95), the magazine for Lego enthusiasts, goes back in time to look at History in Bricks! We'll talk to LEGO Certified Professional Ryan McNaught about his LEGO layout of Pompeii and his many other projects, military builder Dan Siskind about his work and business selling custom models at BrickMania, and Lasse Vestergard about his historical building. Plus: our regular feature on Minifigure Customization by Jared K. Burks, more step-by-step "You Can Build It" instructions by Christopher Deck, DIY Fan Art by Tommy Williamson, MINDSTORMS robotics lessons by Damien Kee, and more! Edited by Joe Meno.
Click the links above to see a free preview, and order!