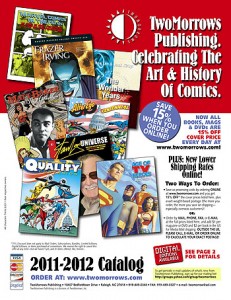 Our new 2011 Catalog is finally done, it's groovy, and it's interactive! Just click on any item, and you'll automatically be taken to the ordering page for that item at our website. The catalog is available for immediate downloading at THIS LINK!
We'll even be including a printed copy with all of these issues sold at comic book stores over the next couple of months:
Back Issue #47
Draw #20
Alter Ego #101
You can also view it in FLASH format without downloading, or order a printed copy, HERE! (Print copies won't be shipping till March 2, but the Digital version is ready now!)
And we'll begin automatically including a printed copy with every order we ship directly to customers, as soon as we get them from the printer in early March. But don't hesitate to download the Digital version now. I think you'll find it's a really handy way to search through our stuff.