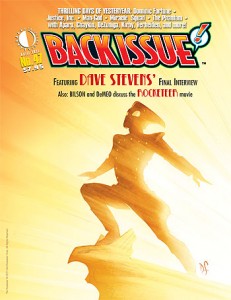 BACK ISSUE #47 features the FINAL IN-DEPTH INTERVIEW with our friend, the late, great DAVE STEVENS, creator of the Rocketeer. Dave died from hairy cell leukemia complications on March 11, 2008 at the way too young age of 52. While we're still feeling his loss three years later, Dave's friend Kelvin Mao conducted an in-depth discussion with Dave just over a year before his death, and it'll finally see print on March 9.
You can download a FREE PDF PREVIEW of the issue HERE.
You can preorder the PRINT or DIGITAL EDITION (or see a Flash preview) at THIS LINK.
BACK ISSUE #47 will be on sale in comic book stores on Wednesday, March 9.