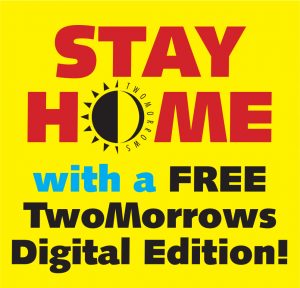 We want to do our part to make it easier for our readers to stay home during the Coronavirus pandemic, and help stop it from spreading.
So now through March 31, enter the Redemption Code "stayhome" during checkout at www.twomorrows.com (at Step 2, where you enter Payment Information), and we will automatically deduct $4.99 from your order! That's enough for a FREE Digital Edition of any of our mags, for instant reading while you're stuck at home!
Don't do digital? Use the $4.99 credit toward any print order, and we'll get it in the mail to you right away, as long as the post office stays open and operational.
So stay home, stay well, and stay with TwoMorrows over the next few weeks, as we release more great new books and magazines, including:
• Back Issue #119 and Comic Book Creator #22 (this Wednesday)
• The World of TwoMorrows 25th Anniversary book (in just 3 weeks)
• New issues of Alter Ego, RetroFan, BrickJournal, and Back Issue #120 (throughout April and early May)
John Morrow, publisher
(There's no minimum order, but the code can only be used once per customer, and is valid through March 31, 2020. We reserve the right to end this offer at any time if we detect misuse.)