Click on the links to see free previews, and to order!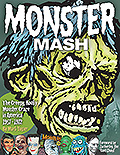 Monster Mash – RETRO MONSTER POP CULTURE!
Time-trip back to the frightening era of 1957-1972, when monsters infiltrated America in monster magazines, toys, games, trading cards, and comic books. This profusely illustrated full-color hardcover covers that creepy, kooky craze through features on Famous Monsters of Filmland magazine, the #1 hit "Monster Mash," Aurora's model kits, TV shows (Shock Theatre, The Addams Family, The Munsters, and Dark Shadows), "Mars Attacks" trading cards, Eerie Publications, Planet of the Apes, and more! It features interviews with monster creators, publishers, and TV stars, with a Foreword by TV horror host Zacherley, the "Cool Ghoul."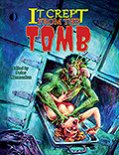 It Crept From The Tomb – "BEST OF" THE UK'S TOP HORROR MAG!
The new "best of" collection of From The Tomb (the UK's top mag on horror comics) digs up atomic comics lost to the Cold War, rarely seen/censored British horror comics, the early art of Richard Corben, Good Girls of a bygone age, Tom Sutton, Don Heck, Lou Morales, Al Eadeh, Bruce Jones' Alien Worlds, HP Lovecraft in Heavy Metal, and more from Atlas, Charlton, Comic Media, DC, EC, Harvey, House of Hammer, Kitchen Sink, Last Gasp, Pacific, Skywald, Warren, and others!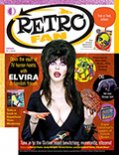 RetroFan #2 – 40% OFF THRU HALLOWEEN!
RetroFan #2 is sure to satiate the trick-or-treat cravings of your inner child! We peek into the tombs of TV horror-hosts ZACHERLEY, VAMPIRA, SEYMOUR, MARVIN, and our cover-featured ELVIRA, interviewed by Monster Mash's MARK VOGER! ANDY MANGELS welcomes us to Saturday morning's Horrible Hall, home of the Groovie Goolies! SCOTT SAAVEDRA tunes in to the creepy, kooky Bewitched, The Addams Family, and The Munsters! The Oddball World of SCOTT SHAW! takes us on a Jurassic lark through the long-buried Dinosaur Land amusement park! Learn the history of Ben Cooper Halloween costumes in an interview with IRA J. COOPER! Super collector TERRY COLLINS shows off his collection of character lunchboxes! Plus: collecting superhero View-Masters; Sindy, the British Barbie; mood rings, and more fun, fab features! Photo cover spotlighting Elvira herself, CASSANDRA PETERSON! Edited by Back Issue magazine's MICHAEL EURY.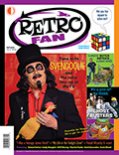 RetroFan #6 – 40% OFF THRU HALLOWEEN!
In RetroFan #6, tune in to the retro line-up of MeTV, with crazy creepster SVENGOOLIE! Meet Eddie Munster himself, BUTCH PATRICK! ANDY MANGELS calls on the original Saturday Morning Ghost Busters, with BOB BURNS! The Oddball World of SCOTT SHAW! uncovers the nutty Naugas! Plus: ERNEST FARINO's "I Was a Teenage James Bond," SCOTT SAAVEDRA's "My Letters to Famous People," the Archie-Dobie Gillis connection by WILL MURRAY, the Pinball Hall of Fame, Alien action figures, the Rubik's Cube fad, and more fun, fab features! Edited by Back Issue magazine's MICHAEL EURY.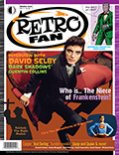 RetroFan #11 – NEW ISSUE SHIPPING TODAY!
Just in time for Halloween, RetroFan #11 features interviews with Dark Shadows' Quentin Collins, David Selby, and the niece of movie Frankenstein Glenn Strange, Julie Ann Ream. Plus: Kolchak the Night Stalker, Rod Serling retrospective, Casper the Friendly Ghost, TV's Adventures of Superman, Superman's pal Jimmy Olsen, Quisp and Quake cereals, Saturday morning cartoon preview specials, scratch model customs, and more fun, fab features! Featuring columns by Ernest Farino, Andy Mangels, Will Murray, Scott Saavedra, and Scott Shaw! Edited by Michael Eury.