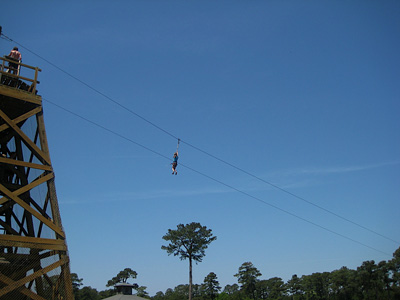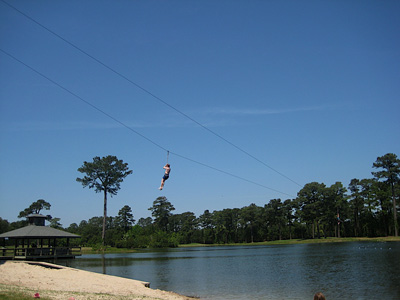 My 7-year-old daughter Lily and I spent the weekend at Camp Seagull near New Bern, NC; it's a camp owned by the YMCA, and we were there for the big Spring Outing for our Y-Princesses tribe. The YMCA has been offering the Princess (for girls) and Guides (for boys) program for decades, and our area has the largest group in the US. Our "tribe" consists of 8 dads and daughters Lily's age.
It was a fantastic weekend. Our tribe shared a cabin, with bunk beds and communal bathrooms. There's swimming (with water slides and rope swings), archery, tennis, a b-b gun range, fishing, canoeing, and a big gathering for all 1500+ dads and daughters, with a great fireworks display. They had scavenger hunts and other contests, and it's a toss-up whether the girls had more fun, or the dads. Either way, the program is an incredible bonding experience for us. We have tribe meetings twice a month, and go on regular outings for fun stuff like roller and ice skating.
The photos here are from the most notorious activity at the camp; the Zipline. Basically, you strap on a harness, climb a 50-ft. tower, and jump off, zipping across the lake to splash down on the other side. I don't do heights; I positively HATE being up high. And quite a few of the girls got up to the top of the tower, and decided they just couldn't do it, and had to walk back down. But I am so proud of Lily; she was scared to death, but still managed to take that big leap off. And despite my trepidations, when I saw my daughter careening down the zip wire, I had no choice but to follow her. As Lily said afterward, it was a "lifetime experience."
If you've got a young son or daughter, check out the program at your local YMCA. You don't have to be a Y member to participate, and the rewards you get out of it are immeasurable.