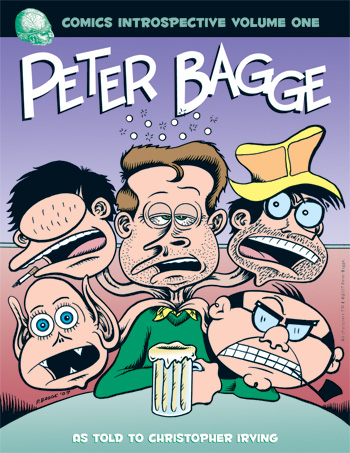 I've been saving this up, and we're finally ready to announce it. So here's the official press release:
TwoMorrows Publishing adds a new book series to their ranks this Summer with COMICS INTROSPECTIVE, editor Christopher Irving's outside-the-box approach to non-mainstream comics talent.
"COMICS INTROSPECTIVE conveys what it's like to hang out with an indy comics talent," Irving states. "It's done with a combination of original photography, multiple art gallery sections, and an introspective dialogue with each subject. Don't expect a standard retrospective interview with these folks: these are in-depth, casual, yet often hard-hitting conversations that just happen to be documented in book form."
Inspired by the energy of 2006's Small Press Expo, Irving decided to take his experience as a historian and journalist (on publications like The Blue Beetle Companion and Comic Book Artist magazine, among others) to produce a series unlike anything being published.
"Too often, people are interviewed about what they've done, as opposed to who they are and why they've approached their careers and craft the way they have… as well as their theories about the comic book artform," said Irving. "What I'm going for with COMICS INTROSPECTIVE is a real look inside the minds of these creators so that we can better understand where they're coming from. Think of it as the book equivalent of kickin' it at a bar with the likes of Peter Bagge or Dean Haspiel for a few hours."
In fact, Volume One, to be released this July, spotlights Hate! comics mastermind Peter Bagge in his Seattle studio, and will debut at Comicon International: San Diego, to be followed Volume Two on Billy Dogma creator Dean Haspiel in January. Cartoonist and animator Jay Stephens is set for the third volume, with more to come. Initial plans are for new volumes to be released at least every six months, and printed on glossy stock to maximize the impact of the art and photography. The US cover price for each 128-page volume is expected to be $16.95.
Publisher John Morrow noted, "We're largely known for the mainstream talent we cover in our publications, but there's a whole world of fabulous creators whose work goes beyond spandex-clad super-heroes. We really want to get to the core of each talent's beliefs, and I can't think of another journalist who could tackle this fresh approach better than Christopher Irving. We want this series to be as breakthrough as the innovators it covers."
In case you're wondering, that little cutaway illo of a man's head is one of Leonardo DaVinci's medical illustrations. It seemed really appropriate, since we'll really be getting inside these guys' (and gals') noggins. Should be fun!